led聽downlights recessed are the most advanced type of downlights available,it is high聽 luminous efficacy with low glare lighting downlights,offering the clearest and lower amount of energy in the process,with yi can lighting, there is available in several sizes and model for led downlights,easy to introduce led downlights recessed to your workplace
Led聽downlights recessed uk 24w
1.lamp wat: 24w聽 聽 聽 聽 聽 聽 聽 聽 聽 聽 聽 聽 聽 聽 聽 聽 聽 聽 聽 聽 聽 聽 聽 聽 聽 聽 聽 聽 聽 聽 聽 聽 聽2. LED Light Source:SMD5630
3.Material: AL聽 聽 聽 聽 聽 聽 聽 聽 聽 聽 聽 聽 聽 聽 聽 聽 聽 聽 聽 聽 聽 聽 聽 聽 聽 聽 聽 聽 聽 聽 聽 聽 聽 聽 4.Size:D190*H95mm聽 cutout:160mm
5.Input Voltage(V):100-240/50-60hz聽 聽 聽 聽 聽 聽 聽 聽 聽 聽 聽 聽 聽 6.Color Temperature:3000k, 4000k,6000K
7.Led chip:Samsung chip聽 聽 聽 聽 聽 聽 聽 聽 聽 聽 聽 聽 聽 聽 聽 聽 聽 聽 聽 聽 聽 聽 聽 聽 聽8.Lamp Luminous Efficiency(lm/w):100
9. CRI (Ra>):80聽 聽 聽 聽 聽 聽 聽 聽 聽 聽 聽 聽 聽 聽 聽 聽 聽 聽 聽 聽 聽 聽 聽 聽 聽 聽 聽 聽 聽 聽 聽 聽 聽10.Beam Angle(掳):120
11.PF:0.95聽 聽 聽 聽 聽 聽 聽 聽 聽 聽 聽 聽 聽 聽 聽 聽 聽 聽 聽 聽 聽 聽 聽 聽 聽 聽 聽 聽 聽 聽 聽 聽 聽 聽 聽 聽 聽 聽12.driver: outside isolate driver
13.IP Rating:IP42聽 聽 聽 聽 聽 聽 聽 聽 聽 聽 聽 聽 聽 聽 聽 聽 聽 聽 聽 聽 聽 聽 聽 聽 聽 聽 聽 聽 聽 聽 聽14.Certification: CE, EMC, , LVD, RoHS
led Downlights advantage
1.聽no min order quantity restriction聽 聽 聽 聽 聽 聽 聽 聽 聽 聽 聽 聽 聽 聽 聽 聽 2.聽Longer lifespan : 35,000聽hours.
3.widely working voltage,meet different market聽 聽 聽 聽 聽 4.isolate constant current driver
5. easy to installation聽 聽 聽 聽 聽 聽 聽 聽 聽 聽 聽 聽 聽 聽 聽 聽 聽 聽 聽 聽 聽 聽 聽 聽 聽 聽 聽 聽 聽 6. longer warranty: 3 years
7. more than 70-90% energy saving
8.Quickly produce time and more easy to do payment(western /RIA/paypal & T/T)
led downlights 24w anatomical drawing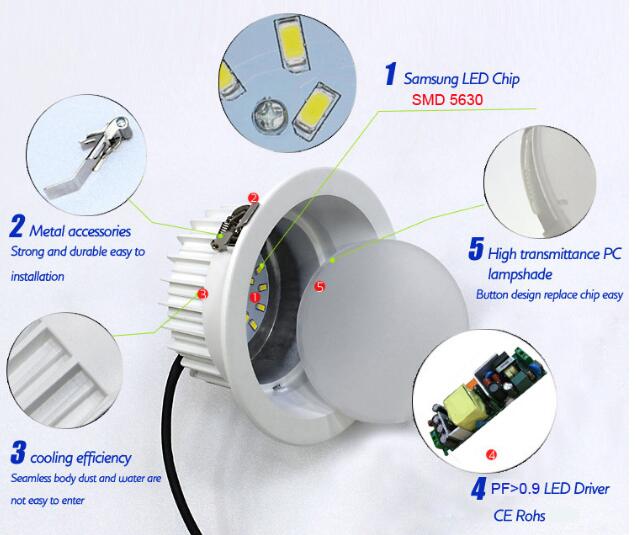 Downlights install introduction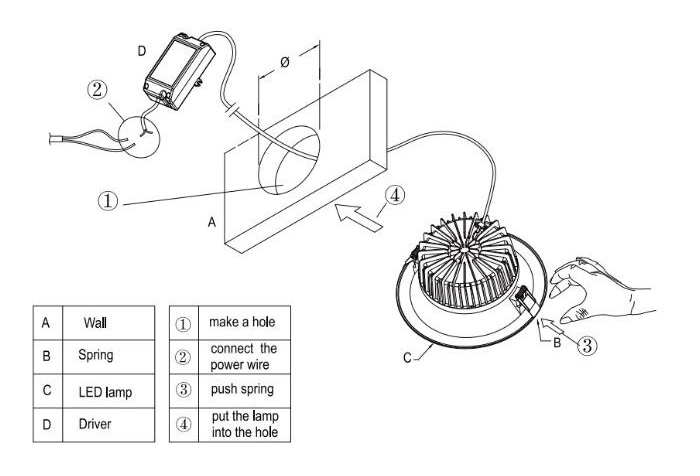 application
Widely used in home indoor lighting, and building decorative lighting projects. Such as : kitchen, corridor, hotels, clubs, meeting rooms, offices, hospitals, schools, commercial lighting, shopping malls, exhibition stands,
FAQ(led downlights recessed)
Q1:how about the samples聽or small quantity order?
R:聽it is ok to do samples,聽our Min order quantity is only 1 pcs
Q2:how about the logo?
R:聽sure. do customer logo is ok,normally. we will use laster to engrave customer logo
Q3:How to solve the defective聽 24w led downlights recessed
R: at First,3 years warranty for our聽downlights
Second,in strict quality control system and less than 0.2% defect rate,
third, using Samsung SMD5730 led and lifud driver to produce.ensure good quality,
fourth.during warranty time. if defect, will produce new and send to you at once