led pl lamp are extremely energy efficient and  greatly reduce our energy costs.it can last up to 50,000 hours ,then we can save so much maintain fee and cost. beacuse of high efficiency, low wattage means high brightness. Luminous Efficiency can reach 100 lm/w which is more higher than the tradational CFL
For meet our customer type needed,www. light-yc.com  can  Supply E27,GX23,G23,G23-2,G24D-1-2-3; G24Q-1-2-3;GX24D-1-2-3-4; GX24Q-1-2-3-4  for our PL light, check the below type picture
G24, there are G24 2 pin, G24 4PIN.
G24 2pin, means distance of 2 pin is 24MM and with 2 pin in diagonal line
G24 4PIN, even more 2 pin than G24 2PIN, but, the more 2 pin is only for fixation, not connect with the driver line. also we can said, remove this 2 pin is not effect the lamp works
G24Q and G24d, the different is with the bayonet position.
check the following bayonet position picture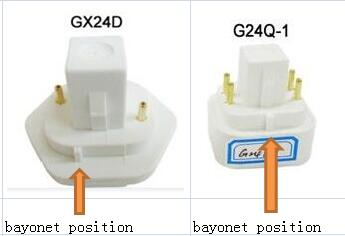 the detail for the G24D-1-2-3; G24Q-1-2-3;GX24D-1-2-3-4; GX24Q-1-2-3-4, please check the above picture, then, we can found out the different